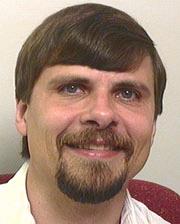 ---
Note: I have left Compaq, and my personal pages have moved off of the Compaq Research web server. If you were redirected here from the old research.compaq.com URL, please change your bookmarks and links to use http://www.tim-mann.org/ instead. The old URL will soon stop working.
This is my personal home page, and is mostly for fun stuff. You can find additional information about me in my curriculum vitae. Note: Although my phone number is given in my CV, do not phone me unless you have a serious matter to discuss or are a personal friend. If you leave a message on my answering machine about chess, retrocomputing, or the like, do not expect me to return your call. Instead, send email to tim@tim-mann.org.
Work
Starting September 4, 2001, I will be a Senior Member of the Technical Staff at VMware in Palo Alto, California. I'll be working on product development for them. I'm excited about getting started on this new adventure!
Before that, I spent over 14 years as a computer scientist at the Compaq Systems Research Center (SRC) in Palo Alto, California. My main projects over the years included Vesta, a software configuration management system that will soon be released as free software under the LGPL, persistent filesystem support for the handheld computer Itsy, the distributed filesystem Frangipani, and the replicated filesystem Echo. I've also dabbled in clock synchronization. Finally, check out a still from my project in SRC's 1993 Algorithm Animation Festival.
My PhD work at Stanford was on naming in distributed operating systems, with David Cheriton as my advisor. Along the way I got to hack on most parts of the V operating system as well as learning lots of other things.
Bibliography
The most up-to-date bibliography for me is the one in my curriculum vitae.
Chess
See my chess pages for information on GNU Chess, XBoard, WinBoard, Crafty, Internet Chess Servers, Zippy, Chess Web Sites, Chess FTP Sites, and more!
Retrocomputing
In a previous life I was an operating system programmer for the Radio Shack TRS-80 Model I and Model III. More recently, in a fit of nostalgia, I've gotten interested in TRS-80 Model I/III/4 emulators. I've made some major extensions to xtrs, an emulator that runs under Unix with the X Window System. I've also gotten back in touch with some old colleagues, and have gained permission from Roy Soltoff of Misosys to put his TRS-80 software up for downloading. See my TRS-80 pages for information and software.

I've moved my various musical endeavors to their own small page. My patch to the Linux ALSA sound drivers to support the Midiator MS-124W and MS-124T serial port MIDI adaptors is now part of the official ALSA sources, but you might still want to read about it on this page. The images and sound files of me singing and playing my guitar are probably of interest only to my friends.

I'm an active Christian, a member of Gloria Dei Lutheran Church in Belmont, California, a WELS congregation. Some of my church activities include serving as treasurer, singing in the choir, and serving as music leader at our summer Bible camp in the Sierra foothills.

My Erdös Number is 4. One chain of this length is Timothy Mann => David R. Cheriton => Robert E. Tarjan => Fan R. K. Chung => Paul Erdös. See also the Erdös number project home page. My former SRC colleague Andrei Broder points out that he has an Erdös number of only 2, so I could reduce mine by writing a paper with him. But I don't think we'll do so just for the sake of this silly number!
---
Return to top | My home page | My work